CHRISTIAN MEDIA NETWORK
---
2 Corinthians - Chapter 9

---

6 But this I say, He which soweth sparingly shall reap also sparingly; and he which soweth bountifully shall reap also bountifully.

7 Every man according as he purposeth in his heart, so let him give; not grudgingly, or of necessity: for God loveth a cheerful giver.


---

Christian Media Network is headed by our Savior Jesus the Christ.

It is NOT incorporated under any state or federal governmental agency, NOR the IRS code: 501c(3).

Any gifts and love offerings are therefore NOT tax deductable and no reciepts will be issued.

We have an essay on this very concept on our research site: Christian Media Research


---

Christian Media Network was originally concepted around The Apocalypse Chronicles, a daily prophecy radio & shortwave show, with a corresponding newsletter and the Christian Media Newspaper quarterly.

Donation funded subscriptions are the main support of this ministry.


In observation of the instructions in His Word at 2 Tim. 2 [15] Study to shew thyself approved unto God, a workman that needeth not to be ashamed, rightly dividing the word of truth - we also offer many other items in our catalogs, available online here, for your edification, "while you still can".


---


Help row the CMN boat

Click on the oar to donate with paypal



The Christian Media Ministry makes our materials available through gifts made to the ministry. When you help Christian Media, we reciprocate with the materials in which you've indicated an interest. Supporters of our ministry do so because they believe in the message the LORD has given us, and we seek to follow the Spiritual directive which Christ gave to the Apostle Peter, in that we seek to feed His sheep. This constitutes a contract, in that gifts we receive indicate a willingness to be instructed in the things of the LORD, as the supporting gifts we receive from the body of Christ allow us to continue in the mission He has called us to.




---
Ministry Volunteer Program
---
---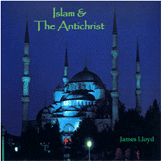 Islam & The Antichrist
James Lloyd has produced a powerful 2 hour audio study examining the idea the Antichrist will be a Moslem leader. This CD shows how the clash between Islam and Israel will deceive a huge number of believers and how the Islamic Antichrist scenario is a Spiritual ruse, designed to deflect attention from the real Antichrist power.
Details Here!

---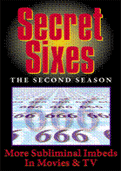 Secret Sixes
The Second Season
In this unique production, host James Lloyd continues where the first Secret Sixes show left off, as the program documents more subliminal activities in the media. Drawn from the television series running on the CMRI Satellite Television Network (CMRI.tv), this astonishing two hour program features dozens of examples of 666 subliminal imbeds.
Details Here!

---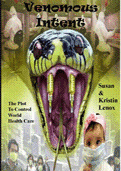 Venomous Intent
The Plot To Control World Health
The latest television production from the Sound Body ministry, the Lenox sisters have thoroughly researched the globalist effort to surreptitiously seize control of all aspects of medicine, pharmaceuticals, and nutrition. Venomous Intent further documents the connection between globalism and the corporate powers that are bent on control of every person's body, in a nefarious effort to politically dominate the world.
Details Here!

---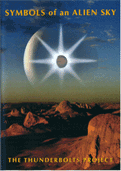 Symbols of an Alien Sky
The new DVD release from David Talbot addresses the connection between ancient religious and social belief systems, and the global cataclysms that occurred in antiquity. It demonstrates how ancient religious myth is directly related to the panorama in our antiquarian solar system, but MUST be viewed through the lens of Scripture.
Details Here!

---


The Avatar Of Truth
This 2 hour television program addresses the Eastern concept of an Avatar, utilizing the terminology found in Eastern and Oriental religious tradition, James shows how culture is commonly confused with Scriptural fidelity. We are treated to solid Biblical doctrine dealing with the crucial concept that salvation is exclusively found in the name above all names - Jesus Christ, as presented in the Holy Bible.
Details Here!

---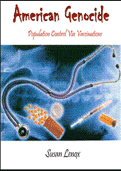 American Genocide
Population Control Via Vaccinations
Sound Body hostess Susan Lenox shows how a particularly nasty version of the Tetanus vaccine was utilized on foreign countries to intentionally bring about sterilization of the female population. Prior vaccination efforts on American soil have already been linked to Brain Tumors, Lupus, Ovarian Cancers, Rheumatoid Arthritis, and the enormous surge in childhood Autism. Also addressed is the foreign testing of various "medical" protocols which are now being brought to the front lines of the globalist war on the American populace.
Details Here!

---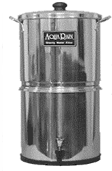 AquaRain Water Filter AR-200
An American made, high quality Stainless Steel water filter system. Those "in the know" are well aware you simply cannot trust the water supply, and with environmental and political conditions deteriorating at an alarming rate, no one should be without a water filter.
Details Here!

---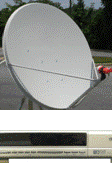 Patriot Satellite Radio
Satellite Dish prices have dropped to the level of a low end Shortwave Radio receiver, and through a volume purchase of Satellite systems, we can now offer patriot radio fans a high quality system that almost anyone can afford. This 36-inch dish system comes complete with remote control, so with just one button, you can switch back and forth between TV programs, and MULTIPLE patriot radio networks and programs on your television set! It's never been this easy.
Details Here!

---
---
---
Broadcast Notes:
---
The Apocalypse Chronicles
Internet Television
---
Satellite TV AND Radio
---
Christian Media Network
CMRI.tv
---
Satellite Changed
Shortwave Realigned
Click here for details
---
CM Weekly News Broadcast
Mondays 1 PM (PST)
with Robert Ellis

---
What Is
THE BLAST?
---
The Reckoning

His Reward Is With Him
Online Essay refuting the Sacred Name System
Preparations For The Coming Plague?
88 Dead Microbiologists
Sound Body
The Latest Findings On Mad Cow Disease
Link Here!
PEAK OIL - Are You Ready For $5 A Gallon?
Abortionist Dr. George Tiller gunned down by former Prophecy Club organizer Scott Roeder
---
Censorship 2009

AOL Isn't The Only One Blocking Net Access Of CMN - Are You Financially Supporting Internet Censorship By Using These Companies?
April 2006 Update!

AOL Caught Again blocking Net Addresses Of Opponents - Are You Still With Antichrist On Line?
Real Life Tragedy:
Puppies Killed As AOL Blocks Rescue
Corporate Power Run Amok:

- The Menace Of AOL's Monopolistic Practices
- Earthlink Rips Off Christian Ministry
---
Help row the CMN boat
Click on the oar
to donate with paypal
---
Online CM Fellowship
For Remnant Believers

To join
send an email to james@christianmedianetwork.com

---
LAST WEEK'S NEWS ARCHIVE
---
THIS WEEK'S NEWS ARCHIVE
---